Mailing and Shipping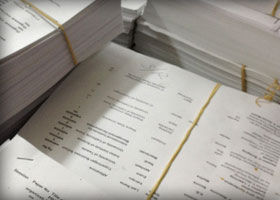 Our Mailing/Shipping department will tab, insert in envelopes, jiffy bags, paper/plastic band, shrink-wrap and/or box your publication for delivery. We inkjet addresses on the mail pieces and accept mailing lists in numerous digital formats on disk, email or copied to an FTP site. At their request, permit accounts are maintained for many of our customers. All mailings adhere to the strictest postal regulations and are fully automated to provide you the lowest postage costs available.
We have accounts with FedEx, UPS, DHL and others for packages not going out through the regular USPS mail stream. Additionally, we maintain a fleet of vans to provide free pick up and delivery service not only locally, but to New York City and the surrounding area as well.

No matter how efficient the production process, until the final product is in the hands of the
consumer, the job is not complete. As the production process nears fruition, our Mailroom/Shipping department is called upon to "wrap things up" as the last stage of this coordinated effort.